Overseas Projects
The Long Well Walk
The Long Well Walk is a Sheffield based charity working to tackle water poverty in Africa. We are a small, transparent volunteer organisation focused on raising awareness in the UK, and working in partnership with small organisations in beneficiary communities, develop effective and sustainable water projects.
Testimonial
"A huge thank you to Terry and Green Furniture Aid for helping us to furnish our office. Being a small newly established charity in this economy is constantly challenging and would be impossible without the help of organisations like this. Thank you."
Liam Garcia
The Long Well Walk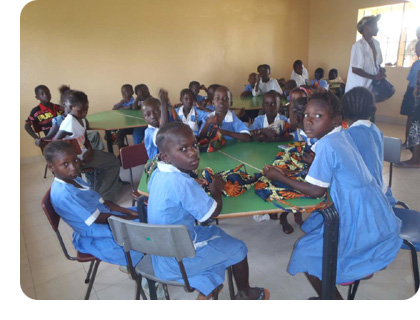 Wullingkamma Nursery School and Lower Basic
Sponsoring Academic and Medical Access was born out of a small village nursery in Wullingkamma in the Gambia. Built by another charity it had pretty much been left to its own devices with no trained teachers, curriculum or way forward. Delyth Dallimore moved to the Gambia and became involved by writing and organising a curriculum.
The numbers of children grew at the school as sponsorships for the neediest children were found from visitors to the Gambia wishing to visit a school. A medical fund was established to treat very ill children (one in five children die before the age of 5 from malaria).
Over the past 4 years thes school grew into a full nursery of children, aged 3 to 7, with the vast majority being sponsored. In March 2012 a group of like minded people met to discuss the possibility of building a school for the next level of education (children aged 7 to 11). With pledges of money raised the build began in April. The school was finished in the same week that it achieved official charity status.
Testimonial
"We originally had planned to only equip three classrooms using locally made furniture as we did not have sufficient funds to equip the fourth. It soon became clear the cost of wood in the Gambia was going to make this a very expensive exercise. Feeling despondent late one evening I stumbled across the Green Furniture Aid website and fired off an email asking if there was any possibility of some office furniture. I have to say from this point onwards Terry Askew was brilliant, contacting me the very next day. After verifying our cause via our web page on Facebook we were offered as many tables and chairs for free to ship out to the Gambia. Due to the generosity of Green Furniture Aid we have been able to ship four full classrooms of tables and chairs (which is just as well since on enrolment day almost double our anticipated intake turned up!) We cannot thank Green Furniture enough, the quality of furniture we have surpasses anything we could have acquired locally In the Gambia despite it being second hand in the UK."